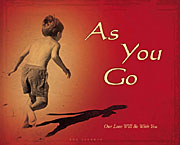 For Parents
---
How to Stay Dry-Eyed While Dropping Your "Baby" Off at College
"My Baby's Gone, I Feel So Blue, My Baby's Gone, What Do I Do?"
Phone Contact the First Month - How Much Is Too Much?
Useful articles on the web
Recommended books about being the parent of a college student
I'll Miss You Too
An Off-to-College Guide for Parents and Students
by Margo E. Bane Woodacre, MSW & Steffany Bane
Letting Go
A Parents' Guide to Understanding the College Years
by Karen Levin Coburn and Madge Lawrence Treeger
4th edition
Recommended book for parents of a college freshman with ADHD
Delivered from Distraction
Getting the Most out of Life with Attention Deficit Disorder
(especially Chapter 24, "Major Danger Alert: College and ADD")
by Edward M. Hallowell, M.D., and John J. Ratey, M.D.

Recommended books about parenting children and teens
Raising Kids Who Can
Use Good Judgment, Assume Responsibility, Communicate Effectively, Respect Self & Others, Cooperate, Develop Self-Esteem, and Enjoy Life
by Betty Lou Bettner, Ph.D., and Amy Lew, Ph.D.
For Parents and Teenagers
Dissolving the Barrier Between You and Your Teen
by William Glasser, M.D.
The Parent's Toolshop
(Winner of "The National Parenting Center's Seal of Approval")
by Jody Johnston Pawel
Recommended books about relationships
Resources - Websites
More Tips